Have not been too active on the forum since back in the day. two kids does that to you. But I brought a bunch of my projects with me to Korea during my one year tour, so I have plenty of time to get aquainted with everyone. So now I think it's about time to share some of what I'm doing and get back in the game!! These models are all in various stages of completion, and only comprise a very small portion of my roster. I'm what you call a semi-rivet counter. I count rivets up until it's too difficult or not worth the time and effort into making those rivets. All models either are or will be equipped with MT body mount couplers and fox valley wheels. All decals except the hoppers were custom designed and printed by me.
Here is a Class NMj caboose. It's completed, minus a smokestack. Fortunately these Lifelike cabooses are a dime a dozen, and just what I need for my caboose roster. I sanded off the stock walkway and replaced it with BLMA diamond walkway, exactly as the road number existed in real life.
Here is a Class XMx 50' boxcar, one of many to be found. This model is complete minus one small decal on both sides that I overlooked before completing it.
Here are two of the five class XAPa 50' auto loading boxcars, which are probably the most fun that I had designing the decals for. These are a staple to my "specialty" car roster. Unfortunately, the Reading enjoyed putting CRECO cars on a lot of their 1940s and 1950s boxcars, so until I have some made, these will be doorless.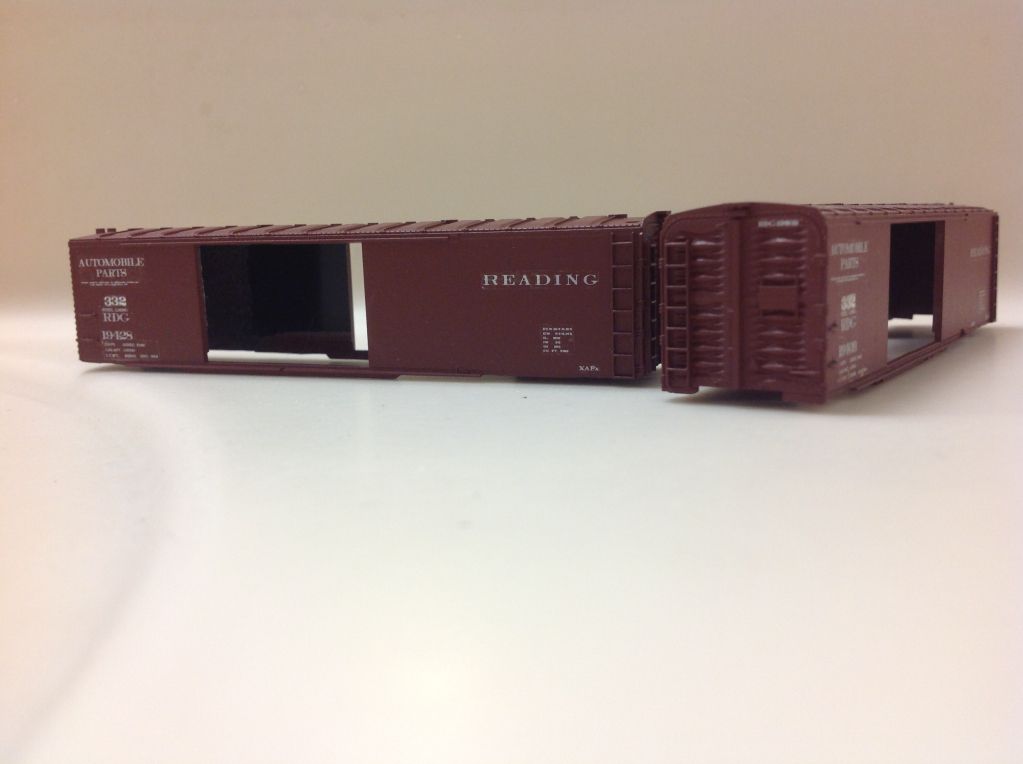 This is a Class XMu 40' USRA all steel boxcar, correct roadnumber with the car's end type (Atlas makes a similar one with a different end, saved for a sub group of this class). Just needs the roofwalk.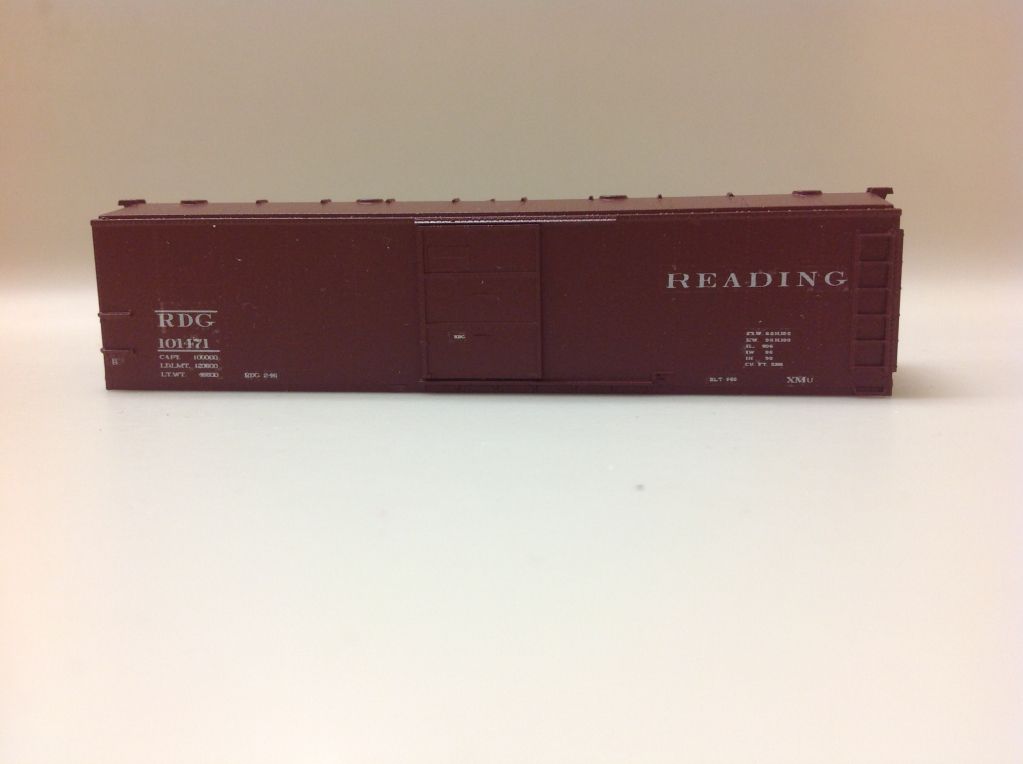 This is a Class XMw 40' boxcar, one of the most common boxcars on the 1950s roster. The roofwalk is waiting in a box back home.
This is a Class GHl 50' drop-end gon. I decaled it incorrect for the time frame, and realized it after i was finished. I have the correct decals coming in the mail, and will reapply shortly.
Here is a Class HTv and HTj set of twin bays. Decals by Microscale. These are 2 of about 30 that I have so far, and far more that arent decaled yet. No Reading layout would be complete with at least a roster 60% full of these.
This is a Class HTw 40' three bay hopper, a Roundhouse model, which oddly enough is the only one with the correct number of panels and sizes. This is also the last class of hopper to carry the red Anthracite herald. These were built and put on the rails in 1956, towards the end of my modeling era. I am waiting to have a set of decals printed out with the correct capacities for these hoppers.
This bad boy used to be a Bachmann spectrum medium tender. I stripped off all the rivets, cut it almost in half and did a bunch of styrene stripping. It's going to be an auxiliary water tender to be used behind a 120 ton steam crane (Bucyrus type) for the reading's Wreck Crane out of Tamaqua, PA. It's nearly completed, I just need to apply some archer rivet decals, and arrange the roofwalk and water fill lid on the top.
And finally here are two Class FMj flat cars. One will have the hand brake re-positioned later. These are both completed, and ready for weathering and flat coat.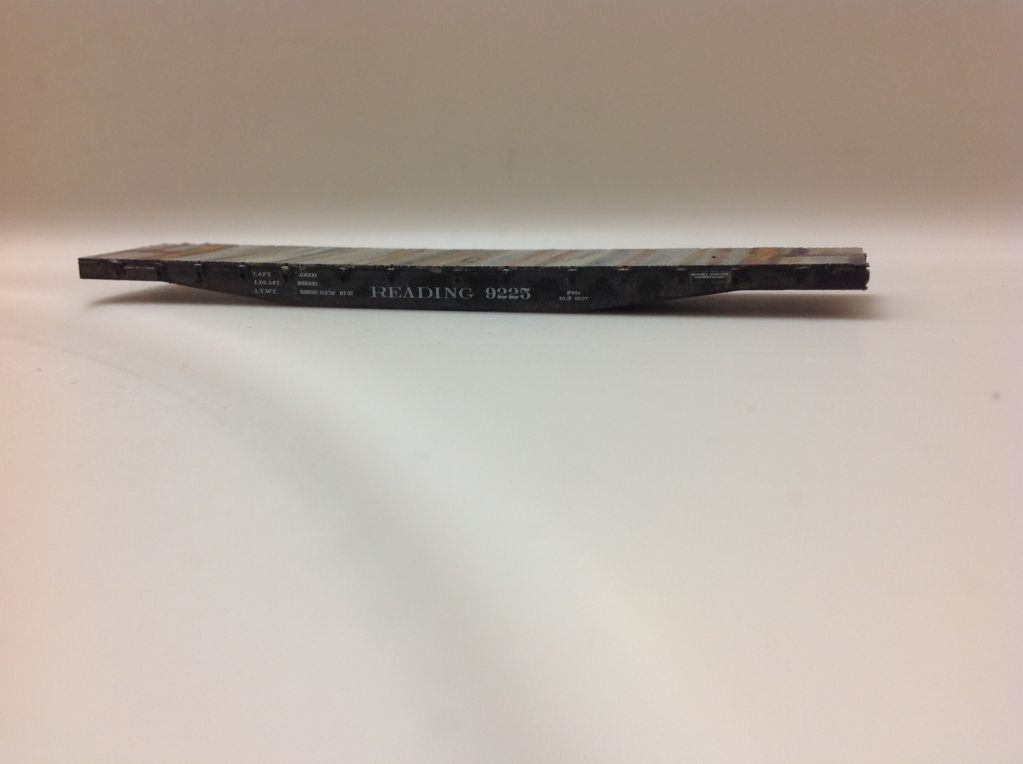 Enjoy!!